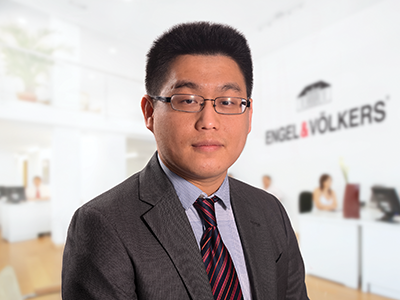 International Real Estate Advisor | David Xiao Team Engel & Völkers Boston
Engel & Völkers Boston
46 Gloucester St
Boston, MA 02115
Email Phone: 617-936-4194 Fax: 617-517-0849
About David-Daili
After joining Real Estate industry, David Xiao soon become one of the most trusted real estate agents in his community. In the past several years, David was elected to be one of the top 20's brokers in Greater Boston Area for multiple times.
His clients repeatedly choose to work with him because of his impeccable work ethic, extensive experience, valuable expertise and full service business. Known for ensuring a positive experience for all parties involved in a transaction, he is respected by buyers, sellers and cooperating agents alike. David does not only help his clients sell or purchase a home, he guides them through the decision making process, looking at current market value as well as future market trends. From small transactions to multi-million dollar deals, David is able to methodically navigate the process while resolving any potential issues that may arise. David is a skilled negotiator who possesses keen attention to detail and an unerring precision to her work. He prides himself on providing his clients end-to-end white glove service, from initial meeting to signing day and beyond.
Originally from China, David is fluent in both English and Chinese (Mandarin 国语) and has extensive experience working across cultures and communities to make deals and forge mutually rewarding business ties. His network of clients and business contacts stretches across three continents and is constantly expanding through referrals and community outreach. He had helped hundreds of people and families moved to or invested in Boston and becomes their local friends and resources for not just real estate, but also education, immigration, investments. David also helped some of his clients and friends manage their properties in Boston Area.
After graduating from China's prestigious East China Normal University with his Economic degree, David first came to Boston for a higher education. When he was pursuing his master's degree in Finance from Suffolk University, David enjoyed an became expert finding his own homes and investment properties, he soon became the go-to resource for his friends seeking new properties. It wasn't long before his part-time passion became his full-time occupation. Today, he's a professional representative with a robust knowledge of Greater Boston real estate, a deep understanding of finance due to his education and own experiences, and his portfolio of private investment properties both in the U.S and China.