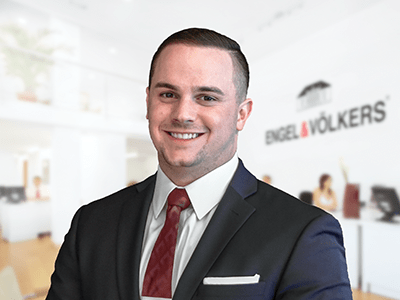 Real Estate Advisor | The Rent Buy Boston Team Engel & Völkers Boston
Engel & Völkers Boston
46 Gloucester St
Boston, MA 02115
Email Phone: 617-936-4194 Fax: 617-517-0849
About Drew
Experience
Real Estate
Property Management
Real Estate Development
Real Estate Investing
Construction
Social Media
@allthingsBostonRealEstate
Bachelors in Business Management - University of Massachusetts Lowell.
From an early age, Drew developed a passion for Real Estate. After graduating from the University of Massachusetts Lowell, Drew accepted a full time position with The Bozzuto Group. His career in Property Management started in the suburbs of Boston as a Leasing and Marketing Associate for a 200+ unit luxury apartment community in Bedford MA. He quickly worked his way up the corporate ladder, becoming a Property Manager before being transferred to a 400+ new construction high-rise building in Downtown Boston. This is when Drew's Real Estate career really began to flourish! He obtained his Real Estate License in an effort to work with clients who were interested in buying versus renting. Over the next 4 years he was mentored by Keith Shirley and Valerie Post of Engel and Völkers Boston before making a decision to leave Property Management and join their firm full-time. Having a deep understanding of the Boston Real Estate market made him an easy choice for buyers. Currently, Drew's hard work and emphasis on customer service laid the foundation for his reputation as one of Boston's top agents.
He prides himself on working with buyers of all levels and budgets, from first timers to seasoned investors, Drew always puts his client's needs first! His impressive career, stemming from Property Management has allowed him to complete transactions all over Boston and points North. In 2017 / 2018 Drew completed transaction in Boston, Somerville, Cambridge, Medford, Burlington, Woburn, and Billerica - just to name a few. Drew also loves to work with clients who are looking to rent luxury apartments in and around Boston with an emphasis on the Downtown and Seaport markets.
Raised in the flourishing town of Burlington MA, Drew is an easy choice for both buyers and sellers who are considering markets North of Boston. Drew has the ability and relationships to source off-market properties in an effort to find his clients the perfect home. Additionally, he works directly with developers and builders with an emphasis on renovated and ground-up construction. In 2018, Drew was responsible for the sale of multiple new construction homes in Burlington, Somerville, and South Boston!
Since entering the industry, Drew has never stopped learning and developing his skill-set. He even started a networking group that meets bi-monthly to discuss Real Estate Investing and market trends. His networking group is now comprised of over 20 members who all enjoy meeting and learning from one another. Drew loves networking with anyone interested in Real Estate, from attorneys, lenders and developers, his professional network is very expansive. He knows just about everyone in Boston and if he hasn't yet met you, he encourages you to reach out to him!
Outside of the Real Estate, Drew's passions include Boating, Golfing, Outdoor Activities and his dog Pung Pung. When he's not in the office, you can usually find him on his boat in Boston Harbor, where he enjoys entertaining friends and family as well as off-shore fishing excursions. He is an all around great guy who always puts his family, friends, and clients first! His favorite quote, one that he learned from his father, is to "do right, do your best, and ALWAYS treat others with respect". Drew lives his life and operates his business with these exact words in mind. Engel and Völkers encourages anyone looking to rent, buyer or sell to please contact Drew.