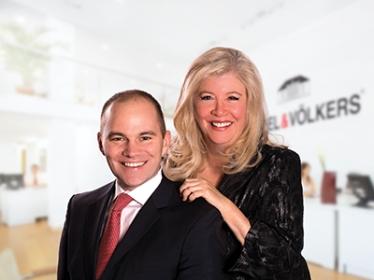 Valerie Post & Keith Shirley | Engel & Völkers Boston
Engel & Völkers Boston
46 Gloucester St
Boston, MA 02115
Email Phone: 617-936-4194 Fax: 617-517-0849
About Post
Valerie Post:
Market savvy Massachusetts real estate professional, Valerie Post specializes in CEOs, business owners, relocating personnel, international investors, upscale families and first time home buyers hoping to sell or buy condominiums, single families and apartment buildings in Boston and the surrounding suburbs.

After several corporate relocations, Valerie and her family moved to the Back Bay of Boston in 2000. She has lived and worked in Boston since 1979 while forging deep connections across its business and philanthropic communities. Valerie's real estate knowledge is extensive. Prior to co-founding Meridian Realty Group, she started investing in Boston real estate 30 years ago. Today, Valerie manages and owns numerous investment properties in her own portfolio.

From waterfront condominiums to historic Boston properties to single family homes, to investment buildings, Valerie represents the finest in properties that ensure an unmatched value on both the sell and buy side. Valerie and the Post/Shirley Team successfully help clients both locally and from all over buy or rent their homes or investment properties in Boston's finest neighborhoods and surrounding suburbs.

Keith Shirley:
Keith Shirley has been a licensed and active real estate professional since 1995.

Keith graduated from Bentley College in 1999 with a Bachelor of Science Degree in Finance and thereafter worked for the Massachusetts Highway Department in the Right of Way Bureau. There, Keith managed the relocation of businesses and residences that were impacted by the $220 million route 146 relocation and construction project in Worcester. Keith then went to work for the Massachusetts Turnpike Authority as the Deputy Chief of Staff. Keith was involved with various real estate negotiations on residential, commercial and land transactions including the $75 million Harvard land sale in Allston/Brighton while at the Authority. Keith also worked closely with executive staff on the operations and facilities of the new infrastructure. Keith earned an MBA from Boston College in 2009. Keith has been involved in property management, development, sales and leasing for 18 years.

Keith currently serves on the Rose Fitzgerald Kennedy Greenway Conservancy's Program and Events Committee and is a member of the Boston College Club.